INFINITI Mobility Assist Program in Summit, NJ, Near Westfield & Livingston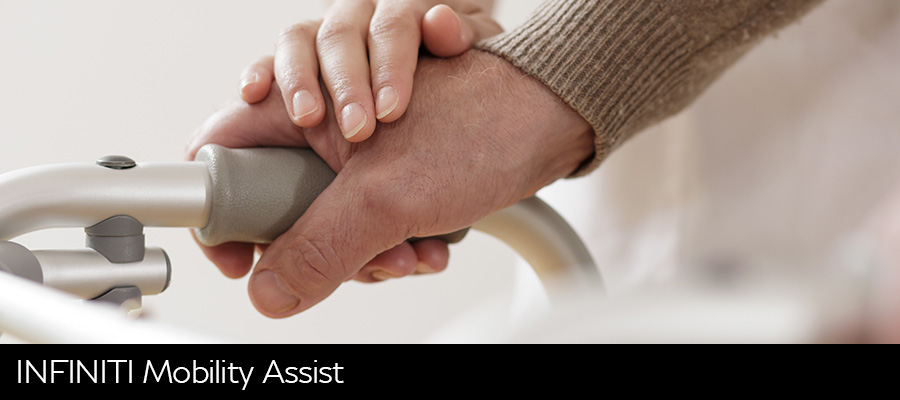 INFINITI Mobility Assist Program in Summit, NJ, Near Westfield & Livingston
At Douglas INFINITI in Summit, NJ ‐ near Westfield, Livingston, and Scotch Plains ‐ eligible drivers will receive reimbursement for up to $1,000 in mobility assistance equipment. This program is part of our mission to create an inclusive driving experience for all drivers, regardless of your needs. When you take advantage of this program, you'll be able to enjoy a new INFINITI at a lower cost, so you'll feel confident about your drive.
The INFINITI Mobility Assist reimbursement program values the needs of diverse drivers and seeks to ensure everyone has the equal opportunity to drive a new INFINITI they'll love. The initiative is applicable toward new INFINITI models that are purchased or leased through participating INFINITI retailers. After the initial purchase, eligible customers must have the equipment registered with NHTSA or NMEDA. The customer must provide INFINITI with a receipt from the installer. Drivers should also complete the INFINITI Mobility Form and submit documentation within 90 days of equipment installation.
Douglas INFINITI has made it our goal to provide equal service to every driver. With the INFINITI Mobility Assist program, we give every shopper the ability to drive a car they'll love on a budget they'll feel good about. When you're ready to purchase your ride, contact us for more details or come visit us at the dealership. We can't wait to serve you!