2024 INFINITI QX80 for Sale in Summit, NJ, Near Westfield, Livingston, & Scotch Plains

Why should you buy a 2024 INFINITI QX80 in Summit, NJ, Near Westfield, Livingston, & Scotch Plains?
The 2024 INFINITI QX80 for sale at Douglas INFINITI in Summit, NJ – near Westfield, Livingston, and Scotch Plains – is the ultimate combination of power, style, and luxury.
The 2024 INFINITI QX80: What We Like
When you roll up in this SUV, heads will turn. Its angular bodylines, athletic silhouette, and massive front grille with chrome accents will grab all the attention, especially when you choose a bold color like the medium blue shade of BW5.
Meanwhile the interior is the epitome of a luxurious sanctuary with seven-passenger seating in leather upholstery. You'll get a 10-way power driver's seat, along with heated front seats to stay warm on chilly days, but you can also upgrade to get heated and ventilated front seats and heated second-row seats.
Hitch the boat or camper and get ready to have a blast with the whole family. The 5.6L V8 engine delivers a heart-pounding 400 hp/413 lb-ft of torque, and can tow up to 8,500 pounds1. The standard Snow and Tow modes will give you added control in challenging road conditions.
Tech: INFINITI InTouch™ on 12.3-inch center touchscreen, Android Auto™ and wireless Apple CarPlay®, standard Bose® Premium Sound System with 13 speakers, wireless charging,
Why Buy a 2024 INFINITI QX80 NOW from Douglas INFINITI?
Right now is a great time to buy a 2024 INFINITI QX80 from Douglas INFINITI because we have amazing new INFINITI specials and new INFINITI auto loan rates are at an all-time low. Our fantastic selection of new INFINITI vehicles is right here on our website for your shopping convenience. Browse the selection today and contact us ASAP to take a test drive!
Interior
There's Beauty Within
QX80's interior sparks the senses, combining everything you want in a luxury SUV with everything you need to handle modern life. Thoughtful touches are incorporated at every turn, making each trip unforgettable for drivers and passengers alike.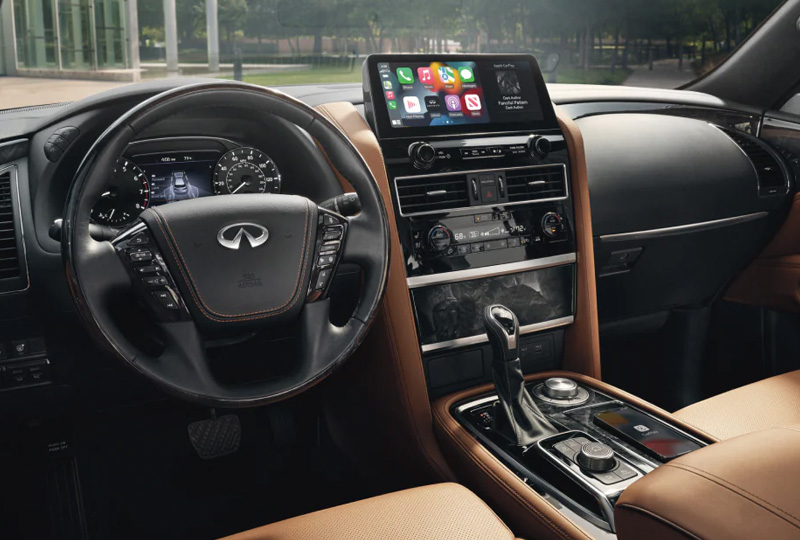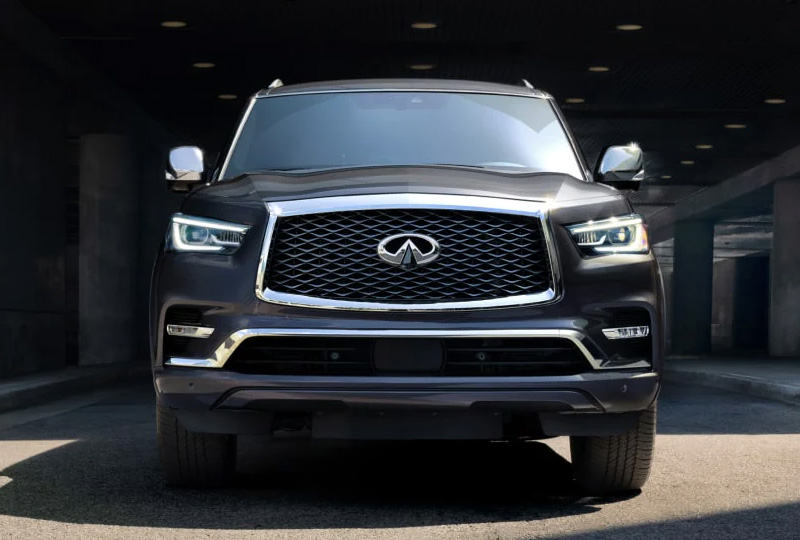 Exterior
Design That Commands Attention
QX80 was made for you to make your mark. Modern touches meet timeless design for an everlasting impression. Your vehicle should complement your lifestyle. QX80 enhances it.
Technology
Wireless Apple CarPlay® Integration
Wireless Apple CarPlay® is the smarter way to enjoy the things you love with your compatible iPhone®. Access Apple Music®, Apple Maps, make calls, send and receive messages.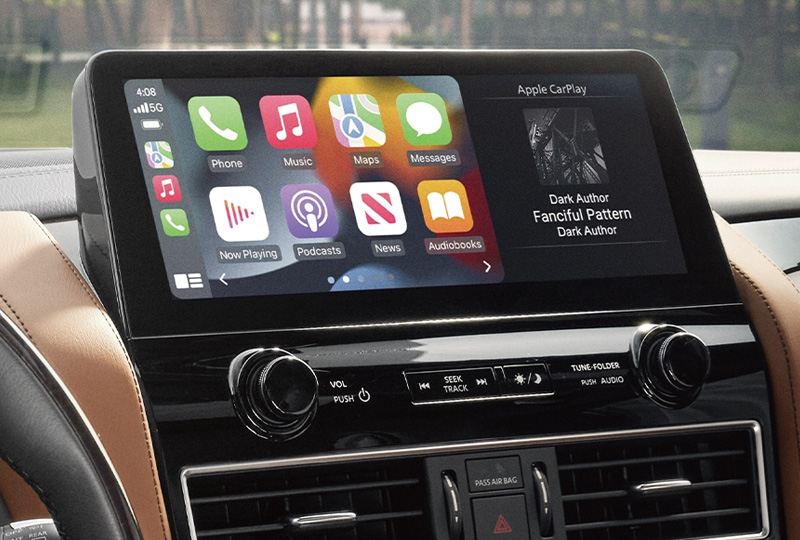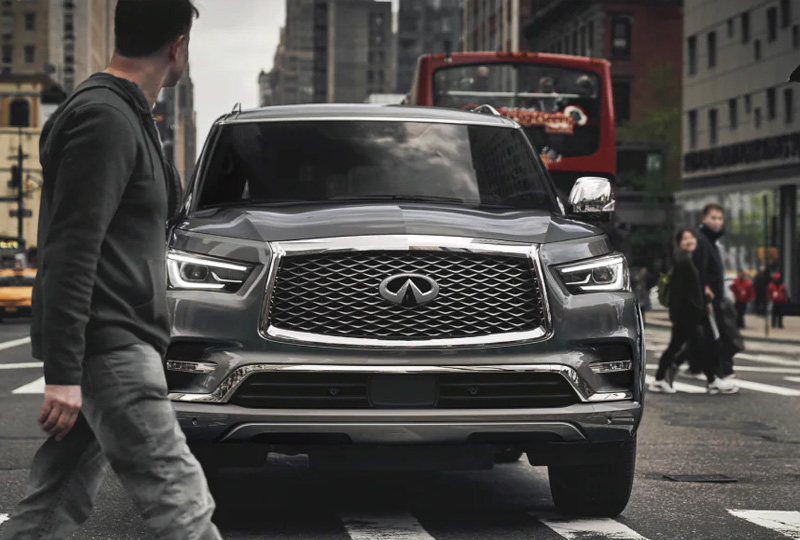 Safety
All Things Considered
Layers of cutting-edge safety technology continuously monitor road conditions and help you avoid a collision. And should one happen, we engineered QX80 to help protect you and your passengers at all costs.
Feature availability is dependent on vehicle model, trim level, packaging and options. Trial included with vehicle purchase. Compatible connected device may be required and feature availability may be dependent on device's capability. Refer to connected device's owner's manual for details. Late availability for some features. Driving is serious business and requires your full attention. Only use features and connected devices when safe and legal to do so. Some features, including automatic crash notification and SOS, are dependent upon the telematics device being in operative condition, its ability to connect to a wireless network, compatible wireless network availability, navigation map data and GPS satellite signal receptions, the absence of which can limit or prevent the ability to reach Customer Care or receive support. GPS mapping may not be detailed in all areas or reflect current road status. Never program GPS while driving. Only use Remote Engine Start and Remote Horn features in accordance with any laws, rules or ordinances in effect in your vehicle's location. Some services and features are provided by and dependent on third party service providers and not INFINITI. Should such service providers terminate or restrict service or features, service or features may be suspended or terminated without notice or with no liability to INFINITI or its partners or agents. Services and features may require compatible cellular network provided by independent companies not within INFINITI or its partners' or agents' control. Cellular network signal strength may vary and may not be available in all areas or at all times. Services and features may not function if cellular network is unavailable, restricted, or terminated. INFINITI and its partners or agents are not responsible for associated costs or other third-party changes that may be required for continued operation due to cellular network unavailability, restriction, or termination (including equipment replacements/upgrades, if available, or roaming charges on alternative networks). Technology is evolving, and changes by independent companies are not within INFINITI's or its partners' or agents' control. Enrollment, owner consent, personal identification number (PIN), and subscription agreement may be required to receive full suite of features and services. Trial periods (if applicable) begin on the date of vehicle purchase or lease of a new INFINITI. Trial periods and feature availability may be subject to change at any time and may be subject to early termination without notice. Required subscriptions may be sold separately for each available feature or service after trial period ends, and may continue until you call service provider to cancel. Installation costs, one-time activation fee, other fees and taxes may apply. Fees and programming subject to change. Feature may be subject to age restrictions in some areas. Subscriptions governed by service provider's subscription agreement, terms and conditions and privacy statements available at service provider's website. Text rates or data usage may apply. INFINITI InTouch™ with WiFi terms and conditions of subscriber agreement apply. Included with vehicle purchase 1 GB or 30 Day Trial on equipped new INFINITI vehicles. Once your vehicle has exceeded the coverage parameters of the roadside assistance benefits included with your vehicle purchase, you will be responsible for any charges incurred by obtaining roadside assistance for your vehicle. For complete information concerning warranty coverage, conditions and exclusions, please see your INFINITI dealer and read the warranty information booklet. The INFINITI names, logos and slogans are trademarks owned by or licensed to Nissan Motor Co. Ltd. or its North American subsidiaries. Other trademarks and trade names are those of their respective owners. For important safety information, system limitations, and additional operating and feature information, see dealer, owner's manual, or https://www.infinitiusa.com/intouch/legal.html